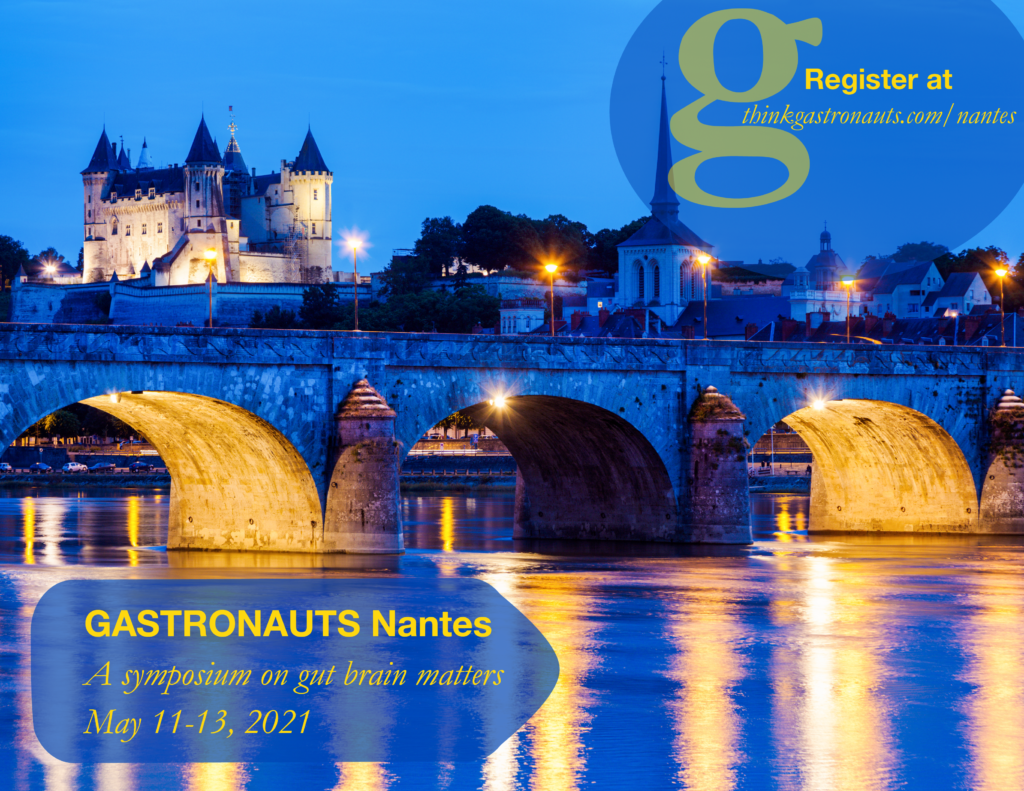 To make us who we are, food must agree with the gut and the brain. This venue for scientific gut-brain dialogue is Gastronauts
When a behavioral neuroscientist sits with a synthetic biologist for breakfast, one can envision a witty probiotic designed to tame our cravings.
In Nantes, the table will be served with fine ideas carefully nourished in laboratories around the world. Guts in space, mind bending gut surgery, guts on a chip, and self-medicating chimps are just a few of the topics to be delivered by our carefully curated list of scientists.
We have 6 sessions with 30 speakers culminating in more than 720 minutes of solid intellectual fun!
Join us in Nantes, France, May 11-13, 2021.
Organizers
Maxime Mahe
Université de Nantes
Board Member & Host

Luis Saraiva
Sidra Medicine Qatar
Board Member

Irene Miguel-Aliaga
Imperial College London
Board Member

Róisín Owens
University of Cambridge
Board Member

Maya Kaelberer
Duke University
Board Member
Elise Loffet
Université de Nantes
Junior Fellow
Diego Bohórquez
Duke University
Board Member & Founder
5 January 2021-UPDATE REGARDING COVID-19:
Because of COVID-19, the organizing committee made the difficult decision to move our Global Gastronauts Symposium to on online virtual venue.
However, this change has brought the opportunity to connect even further with our global community of scientists working on gut-brain matters. The virtual event will include six stellar scientific sessions of two hours each. And each hosted live from one of six global locations: Adelaide – Australia, Doha – Qatar, Durham – USA, London – UK, Nantes – France, and Porto Alegre – Brazil. This event will take place May 11-13, 2021.
Please save the date!!!
Registration will open February 1, 2021
Abstract submission
Once you are registered you can submit your abstract here. Abstracts should be up to 145 words. The abstract deadline is April 11, 2021. At this time, a select few abstracts will be selected for flash talks in addition to a poster presentation.
For any inquiries, please email thinkgastronauts@gmail.com.
AGENDA
May 11, 2021
Doha, Qatar
11:00am, GMT+3
Marcello Costa
Ana Domingos
Roisin Owens
Antonio Scialdone
History of enteric neurobiology
Neuroimmunology
Guts on a chip
Math in plants: bioinformatics
Flinders University
Oxford University
Cambridge University
Helmholtz München
PANEL:
Scientific Entrepreneurship
led by Christof von Kalle
BIH-Charité Clinical Study
Nantes, France
5:00pm, GMT+1
Judith Eisen
John Lukens
Alison Moore
Carlotta Rhonda
Giles Yeo
Gut neurons and microbes
Microbiome-immune crosstalk
Gut feelings in culture
Engineering microbes
Food Genomics
University of Oregon
University of Virginia
Western Sydney University
Columbia University
Cambridge University
May 12, 2021
London, United Kingdom
3:00pm, GMT
Marcelo Deitrich
Layla Kamareddine
Zachary Knight
Ulrika Marklund
Nilay Yapici
Ontology of feeding
Host-pathogen interactions
Gut-brain nutrient sensing
Gut neuron development
Neurobiology of ingestion
Yale University
Qatar University
UCSF
Karolinska Institute
Cornell University
Adelaide, Australia
9:30am, GMT+10.5
Mauro Costa-Mattioli
Amy Greeson
Michael Huffman
Cheryl Nickerson
Mood enhancing microbes
Medicinal Plants
Self-medicating chimps
Gut disease in space
Baylor College
Natural Discoveries Inc.
Kyoto University
Arizona State University
Panel: Funding
led by Nandini Iyer
Department of Defense
May 13, 2021
Durham, United States
10:00am, GMT-5
Nancy Allbritton
Dana Small
Filipe de Vadder
Henrique Veiga-Fernandes
Microengineering the gut
The pleasure of food
Gut microbes and neurons
Diet, immunity, and the gut
University of Washington
Yale University
Genomics Institute Lyon
Champalimaud
PANEL:
Science Communication
Led by Caitlin Vander Weele
Neuroscientist and
Social Media Specialist
Porto Alegre, Brazil
2:00pm, GMT-3
Kara Margolis
Matthias Meier
Michel Neunlist
Dragana Rogulja
Charles Spence
Autism in the gut
Microfluidics
Parkinson's in the gut
To sleep, or to eat
The future of food
Columbia University
University of Freiburg
INSERM Nantes
Harvard University
Oxford University