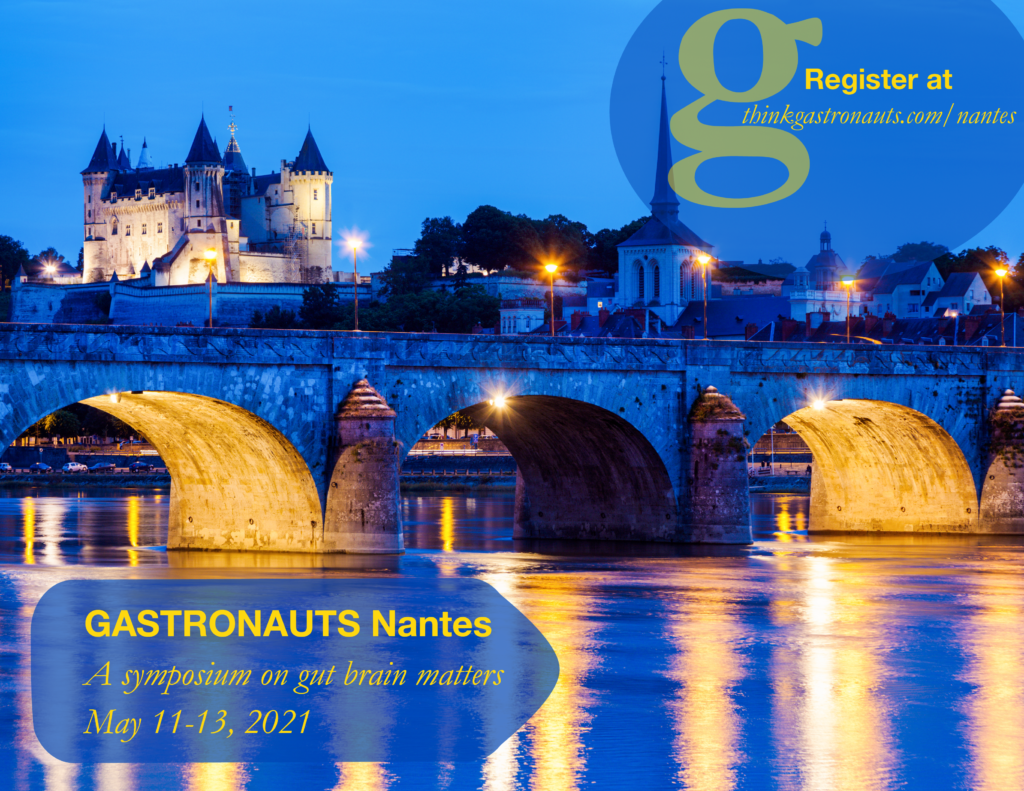 To make us who we are, food must agree with the gut and the brain. This venue for scientific gut-brain dialogue is Gastronauts
When a behavioral neuroscientist sits with a synthetic biologist for breakfast, one can envision a witty probiotic designed to tame our cravings.
In Nantes, the table will be served with fine ideas carefully nourished in laboratories around the world. Guts in space, mind bending gut surgery, guts on a chip, and self-medicating chimps are just a few of the topics to be delivered by our carefully curated list of scientists.
We have 8 sessions with 30 speakers, and 3 discussion panels culminating in more than 1,800 minutes of solid intellectual fun!
Join us in Nantes, France, May 11-13, 2021.
Organizers
Maxime Mahe
Université de Nantes
Board Member & Host

Luis Saraiva
Sidra Medicine Qatar
Board Member

Irene Miguel-Aliaga
Imperial College London
Board Member

Róisín Owens
University of Cambridge
Board Member

Maya Kaelberer
Duke University
Board Member
Elise Loffet
Université de Nantes
Junior Fellow
Diego Bohórquez
Duke University
Board Member & Founder
20 March 2020-UPDATE REGARDING COVID-19:
In light of the COVID-19 pandemic, the Gastronauts Organizing Committee has decided to postpone Gastronauts Nantes to next year May 11-13, 2021. This enables our Gastronauts Community to stay safe and bounce back stronger than ever once the pandemic has passed.
Gastronauts is a venue that fosters diversity, values sharing our science openly, and strives to continue building a strong community. Those principles have brought us here and will continue to keep us moving forward. We hope that you will be able to join us in 2021.
Registration will open September 12, 2020
Registration fees are $245 for students, $445 for non-students, and $745 for industry. The registration deadline is March 12, 2021.
Abstract submission
Once you are registered you can submit your abstract here. Abstracts should be up to 145 words. The abstract deadline is March 12, 2021. At this time, a select few abstracts will be selected for flash talks in addition to a poster presentation.
For any inquiries, please email thinkgastronauts@gmail.com.
AGENDA
Menu pour l'esprit et la digestion

| May 11, 2021 | | |
| --- | --- | --- |
| Arrival | | |
| Registration and Welcome Reception | | |
May 12, 2021
Amuse-bouche
Giles Yeo
Food genomics
Cambridge University
I. Sensing food
Alison Moore
Marcello Costa
Zachary Knight
Dragana Rogulja
Gut feelings in culture
History of enteric neurobiology
Gut-brain nutrient sensing
To sleep or to eat
Western Sydney University
Flinders University
UCSF
Harvard University
II. Gut nerves
Judith Eisen
Ulrika Marklund
Nick Spencer
Nilay Yapici
Gut neurons and microbes
Gut neurons development
Visceral sensing
Neurobiology of ingestion
University of Oregon
Karolinska Institute
Flinders University
Cornell University
PANEL:
Funding
Led by Nandini Iyer
Program Officer
DoD Global Research
III. Biotechnologies
Matthias Meier
Róisín Owens
Microfluidics
Guts on a chip
University of Freiburg
University of Cambridge
IV. Behavior
Kara Margolis
Mauro Costa-Mattioli
Dana Small
Autism in the gut
Mood enhancing microbes
The pleasure of food
Columbia University
Baylor College
Yale University
May 13, 2021
V. Bioengineering
Nancy Allbritton
Carlotta Ronda
Antonio Scialdone
Microengineering the gut
Engineering microbes
Math in plants and the power of bioinformatics
UNC - Chapel Hill
Columbia University
Helmholtz München
PANEL:
Scientific Entrepreneurship
Led by Christof von Kalle
BIH-Charité Clinical Study
VI. Disease
Michele Neunlist
Filipe De Vadder
Cheryl Nickerson
Parkinson's in the gut
Gut microbes and neurons
Gut disease in space
INSERM Nantes
Genomics Institute Lyon
Arizona State University
PANEL:
The future of Sci Com
Led by Caitlin Van der Weele
Neuroscientist and
Social Media Specialist

VII. Neuroimmunology
Layla Kamareddine
Ana Domingos
John Lukens
Henrique Veiga-Fernandes
Host-pathogen interactions
Neuroimmunology
Microbiome-immune crosstalk
Diet, immunity, and the gut
Qatar University
University of Oxford
University of Virgina
Champalimaud
VIII. Healing plants
Marcelo Deitrich
Amy Greeson
Michael Huffman
Ontogeny of feeding
Medicinal plants
Self-medicating chimps
Yale University
Natural Discoveries Inc.
Kyoto University
Digestif
Charles Spence
The future of food
University of Oxford
VENUE
Housed in a beautifully renovated neoclassical courthouse, the Radisson Blu Hotel in Nantes (6 place Aristide Briand 44000 Nantes France) will be the venue for Gastronauts Nantes 2021.
TRAVEL
Airport: The recommended airport to fly into is Nantes Atlantique (NTE). NTE is connected to 56 major European cities and hubs, and to 16 French towns. Connections through Paris airports Charles de Gaule or Orly is convenient , but not mandatory. The flight from Paris to Nantes is a 50 minute journey. NTE web site : www.nantes.aeroport.fr
Shuttle: Airport to downtown: There is a direct public transportation shuttle from the airport to the city center. The shuttle runs from 06:15 am to 23:15 pm, every 20 minutes during the week, and 30 minutes on weekends. It is a 20 minute trip and the fare is 9 €. Tickets can be purchased from the driver.
Taxi: Airpot to downtown: Taxis are available at the airport to drive you to your hotel downtown. The trip is ~11 km and costs 25 € – 45 € depending on the day, hour, and traffic. You can book a taxi ahead of time from ALLO TAXI NANTES Company by dialing: +33 240 69 22 22. Not all taxis accept credit card so please ask at booking if you want to pay with a card.
Train station: Nantes train station is 2 hours from PARIS centre (Gare Montparnasse) by our fast train, TGV. There are more than 20 trains a day between Nantes and Paris. You can also pick up the TGV train at the Paris Airport train station (Charles de Gaule) directly to Nantes. This journey takes around 3 hours. For more information visit http://uk.voyages-sncf.com/en/
The Nantes train station is located in central downtown and is ~2km from the Radisson Blu Hotel. You can walk or take a taxi from the train station.