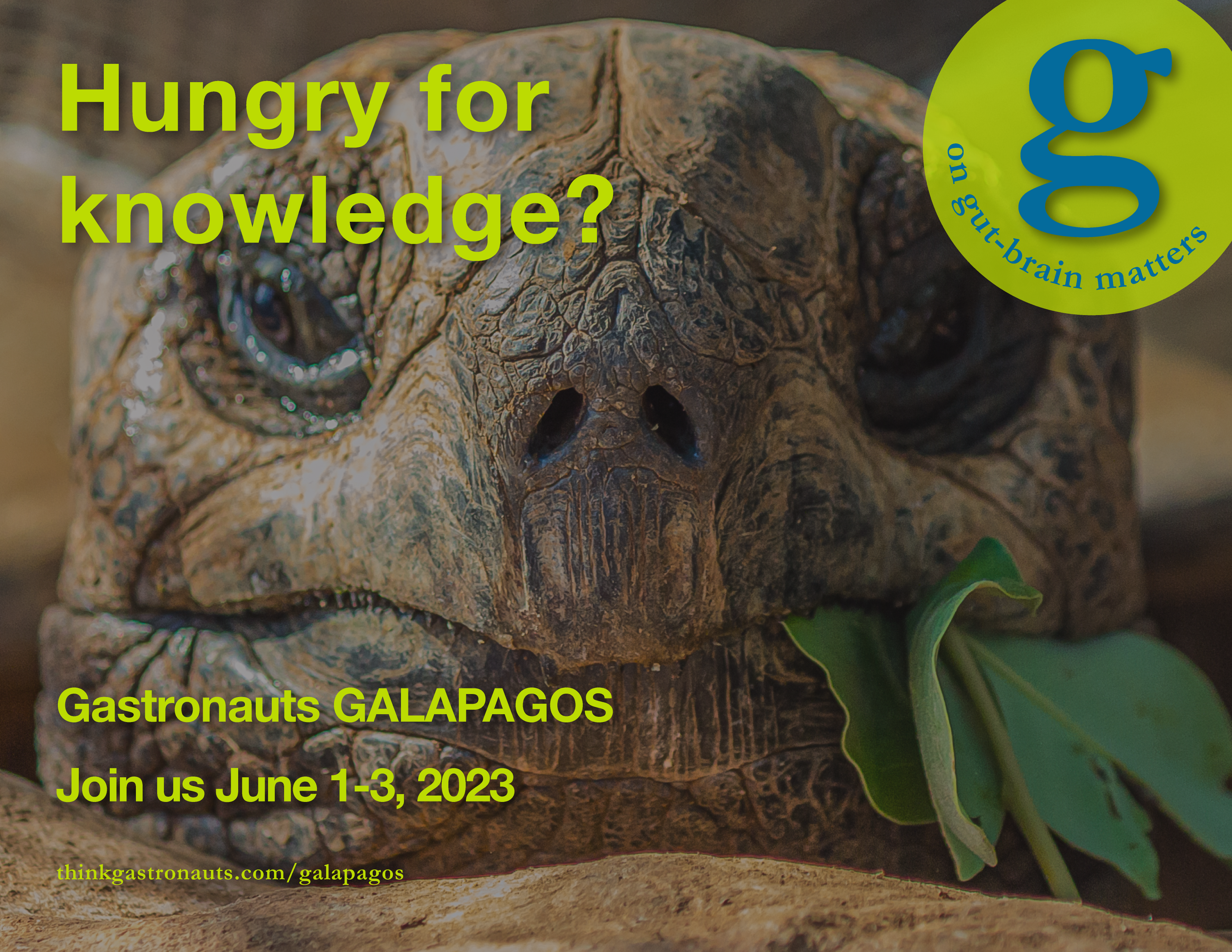 Travel transforms. Ask Charles Darwin.
When he landed on the Galapagos island of St. Cristobal in 1835, Darwin never imagined he would change humankind forever. The wisdom he gained inspired generations of scientists that came after.
On June 1, 2023, Gastronauts will disembark on that same St. Cristobal Island to envision the future of knowledge on food, the gut, and the brain.
Gastronauts is the global venue for the dissemination of knowledge on gut-brain matters. In collaboration with the University San Francisco de Quito – Ecuador (USFQ), Galapagos will be the the fourth Global Gastronauts Symposium. It will bring together 100 scientific leaders to imagine the scientific future of how to turn food into precision medicine.
Registration is closed.
Poster presentations
What to share your exciting work? Join us and present a poster of your up and coming idea! Abstracts of all kinds will be accepted including written (200 word max.), graphical abstract, video (1 minute max.), or audio file (1 minute max.). Poster boards will accommodate A1 sizes (59.4cm x 84.1cm).
Symposium agenda
Expand for agenda
Day I — June 1, arrival
Opening reception and poster session I/ II
Day II — June 2
Keynote:
Antonio Lazcano
UNAM, Mexico
History of Darwin and evolution
Session I: Talking neuro-immune
John Lukens
University of Virgina, USA
Immune-neuron communication
Gabriel Antonio Trueba
U San Francisco de Quito, Ecuador
Evolution of microbe gene transfer
Asya Rolls
Technion, Israel
Immunity as a global messenger
Session II: Medicinal plants
Zhen Wang
U of Buffalo, USA
Metabolic engineering of plants
María Elena Cazar-Ramirez
U Cuenca, Ecuador
Natural bioagents of Ecuador
Michael Huffman
Kyoto U, Japan
The evolution of self-medication
Session III: Mind-body connection
Jing Wang
U California-San Diego, USA
How we detect protein in the diet
Teresa Lever
U Missouri, USA
Visualizing digestion
Corrie daCosta
U of Ottawa, Canada
Ion channel time travel
Dragana Rogulja
Harvard U, USA
Sensing circadian rhythms
Day III — June 3
Session IV: Biotechnology
Daniella Oettler
TSE
Developing intelligent equipment
Yulong Li
Peking U, China
Seeing the brain in action
Enrique Hernández-Lemus
INMEGEN, Mexico
Computational genomics
Greg Gage
Backyard Brains
Democratizing neuroscience
Session V: Gut physiology
Gilles Mithieux
U Lyon, France
Glucose metabolism in evolution
David Hildebrand
Rockefeller U, USA
A closer look at gut ultrastructure
Frank Reimann
U Cambridge, UK
How the intestine recognizes food
Session VI: Food or medicine
Mandë Holford
Hunter College, USA
Killing pain with venom
Zohar Kerem
Hebrew U of Jerusalem, Israel
The science of wine
Chefs:
Emilio Dalmau & Esteban Tapia
U San Francisco de Quito, Ecuador
The art of preparing food
Day IV — June 4, departure
Travel guidelines to prepare for your trip to the Galapagos
The Galapagos is an archipelago in Ecuador. The capital of Ecuador is Quito and the major coastal city is Guayaquil. The conference will take place on the island of San Cristobal — the capital is Puerto Baquerizo Moreno. The University of San Francisco de Quito has a research center in the town and the conference venue is "Centro Internacional de Convenciones Charles Darwin".
Expand for tips
Before you go:
Make sure your passport is up to date! The US passport office is currently experiencing long delays in processing time.
Check your state department for visa entry requirements to Ecuador. US and European citizens do not require a visa.
Flights:
Book with your preferred airline a flight to Quito (UIO) or Guayaquil (GYE). Most major international airlines fly to Quito or Guayaquil, and most flights arrive in the evening or night therefore, you may need to arrive on May 31st and stay the night before flying to the Galapagos.
From UIO or GYE, there are three airlines that fly to San Cristobal (SCY): LATAM, Avianca, and Equair. Most flights depart early in the morning. June is the high season, be sure to book your flights soon as they will start to sell out.
Galapagos National Park Fees:
At the UIO or GYE airport, you need to buy a Galapagos visa ($10). Before departing, you will go through a special Galapagos screening area where they scan your bags. Make sure you are not carrying any agricultural products.
Upon arrival at SCY, you need to pay a park entry fee ($100 per person – cash only).
Getting from SCY to the main town of Puerto Baquerizo Moreno is only ~5 min by taxi and cost $2. You can also walk, though this will take about twenty minutes.
Accommodation:
There are a number of hotels in the main town of Puerto Baquerizo. They range from around $40/night for a double up to $200 (Note: May hotels are priced per person, please check this when booking). Nearly all hotels are locally owned and operated. As June is the beginning of the high season, book early.
Water:
Bottled water is encouraged. Most hotels offer drinkable water that you can fill up your re-usable water bottles.
Currency:
The currency in Ecuador is the United States Dollar. Not all places take credit cards so bring cash from the mainland. In a bind, there are a few ATMs available on San Cristobal.
Tipping in Ecuador is not customary but is appreciated. Some places will add tax and a 10% tip to the bill. If would like to include tip, ~10% is reasonable.
Getting around/ tourism:
You can explore the island by foot. There are a number of shops where you can plan additional activities, including snorkeling, sky diving or any additional fun adventures.
Organizing committee
We have put together a stellar team from different regions in the Americas. Each member contributes a unique view and different expertise which is at the heart of Gastronauts.
Maya Kaelberer
Gastronauts Director
Duke University
Diego V. Bohórquez
Gastronauts Curator
Duke University
Amber L. Alhadeff
Monell Chemical Senses
Julia A. Kaltschmidt
Stanford University
Ranier Gutierrez
CINVESTAV
Gastronauts Galapagos is co-hosted by: