We are excited to be back in person for this Gastronauts Season 8. AND to keep connected with our global community, this Season will be hybrid.
September 2022: How do animals know when to hibernate?
Elena Gracheva, Ph.D., is an Associate Professor of Neuroscience at Yale University. Elena discovered how the senses go into a state of "suspended animation" for animals to survive months of starvation.
October 2022: Body-brain dialogues in mental health
Sahib S. Khalsa, M.D., Ph.D., is an Associate Professor at Oxley College of Health Sciences at the University of Tulsa. His laboratory is tackling the role of interception in human mental health.
November 2022: The transporters of energy homeostasis
Heidi de Wet, D.Phil., is an Associate Professor of Physiology at the University of Oxford. Heidi's work on appetite regulation focuses on how the gut responds when food arrives.
December 2022: Bite Size Summit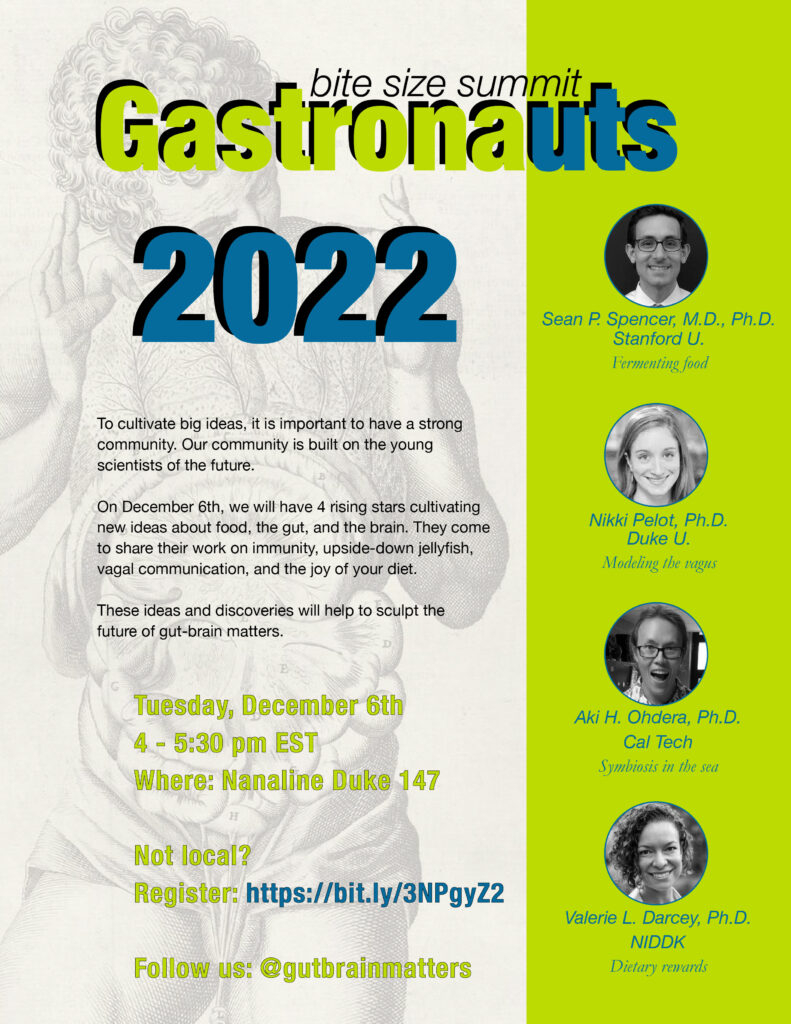 January 2023: Neuroengineered devices to wiggle the mind
Polina Anikeeva, Ph.D, is a Professor in Material Science and Engineering, and Brain and Cognitive Science at MIT. Polina work with bioelectronics, where she focuses on the development of optogenetic and magnetic materials and devices used for recording and modulating activity of neurons in the brain, spinal cord, and peripheral organs
February 2023: Neuroscience experiments for everyone!
Greg Gage, Ph.D. is the CEO of Backyard Brains. His work focuses on neuroscience education where he develops tools, curriculum, and experiments that allow the general public to participate in neural discovery. To this end, he co-founded and is the CEO of Backyard Brains. Backyard Brains is the effort to democratize neuroscience, click here for more information. In addition, Dr. Gage is a TED Fellow, to see his TED talks click here.
March 2023: The impact of microbes on autism
Maude David, Ph.D. is an Assistant Professor at Oregon State University. Her laboratory studies the microbial gut-brain connection, and how microbes impact behavior, specifically in Autism Spectrum Disorder and anxiety. She uses a crowd-sourced approach to collect lifestyle type information, diet habits, and samples, as well as bioinformatics and molecular methods for improving massive sequencing data annotation.
April 2023: The secret lives of enteric glia
Brian Gulbransen, Ph.D. is an Associate Professor at Michigan State University. His laboratory studies how inflammation in the nervous system leads to long-term changes in gastrointestinal function. They specifically narrow in on the intercellular communication between neurons, glia, and immune cells.
May 2023: Developing botanical therapeutics
Ilya Raskin, Ph.D. is a Distinguished Professor at Rutgers University. Ilya has earned an international reputation through his work on plant growth regulation, plant immunity to diseases, phytoremediation, and, in the last decade, for his research in plant-derived functional foods and medicines. He is also actively involved in international bioexploration and conservation.